(as appeared in the Nov, 2008 TSR)
By John Wright
Much like it is today in vintage racing, there was a timewhen T-series MGs were the staple of the sports car racing scene. You might remember my last article about the 1954 race at Andrews AFB. Of the 165 cars on the entry list, 40 or so were MGs. There was an all-MG race featuring mostly porting TDs alongside some equallyprepared TCs and a few hot MG Specials. This was the norm in early 1950s racing. The TD with its independent front suspension and rack & pinion steering became an instant hit with MG racers in spite of the biggest problem of a production sports car: its weight. There were many, many MG specials over the years. One of the most pleasing to the eye was the Italian-bodied Motto MG TD of David Ash.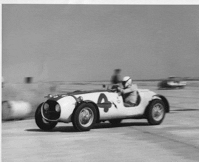 That first Motto MG started life as a relatively stock TD raced by David Ash, "Mr. MG," of east-coast importers J.S. Inskip Motors. Ash had the TD body removed, and a cigar-shaped alloy body was fabricated on Long Island. He raced the TD with this body at Watkins Glen in '51 and then at Sebring in '52. Success was his with the "cigar" Motto MG at Sebring, where the team of Ash and Jack Van Driel placed 6th overall and 2nd in class. Mechanically, the spec sheet of the Motto TD listed the engine as #1 of a series of 6 "experimentals" similar to that of Ken Miles [Ed. Note: Miles was a British-born sports car racing engineer and driver who emigrated to the United States after WWII, where he pursued a highly successful racing career until his untimely death in 1966.] The engine was a 1466cc affair with 10.7:1 compression, special rods and Laystall crank and camshaft along with special pistons and valves, and 1¾" SUs, etc. Does that make you wonder what the "etc." was? Also at some point very early on, the TD chassis was modified to accept a Mercedes Benz swing-axle rear. To further prove that the TD running gear could be competitive against the OSCAs and the silver 550 Spyders from Porsche, Ash soon had a fully enveloping body built by Rocco Motto of Carrozzeria Motto in Turin (hence the name, Motto MG).
Eventually, 2 more Rocco Motto-bodied MG Specials were constructed with tubular chassis being built by Giberto Columbo. All 3 competed in races at such road courses in the east as Watkins Glen, Marlboro, and the 12 hours of Sebring, here one of the Mottos was the highest placing MG in 1954. Additionally, they raced at Brynfyn Tyddyn, the Hillclimb at Giant's Despair (both in Pennsylvania), and various other eastern locations. Yet another fine showing was at Nassau, The Bahamas in 1956.
These were successful MG specials, both beautiful to look at and fast to drive. After passing though many hands, the first Motto TD now resides in Japan, fully restored. Photo 1 above shows the TD chassis cigar–shaped special in the 1952 Sebring race, and Photo 2 shows one of the tubular chassis Mottos at the Glen in 1953. My special thanks to Mike Eaton for the info and pics for this article.